Logan Mankins Seemed Dazed
August 28th, 2014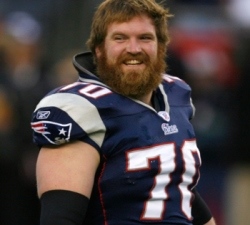 A shell-shocked Logan Mankins, with much of his trademark burly beard gone, took to a podium set up in a VIP room in the bowels of the Stadium on Dale Mabry Highway two hours before kickoff this evening. He met with assembled members of the Tampa Bay pen and mic club and bartenders shocked since they had yet to pour a drink.
Mankins, an All-Pro guard from New England, was swapped in a bombshell trade to the Bucs earlier this week. It was Mankins' first meeting with the local fourth estate.
At times, Mankins seemed he was about to break out in tears. He stood slumped forward, constantly staring ahead with a faraway look in his eyes, mumbling answers. He wasn't rude, but he clearly seemed homesick for New England.
"I love that place [New England]," Mankins said. "But I'm but moving on. I don't want to disappoint [Lovie]. … Lovie is my coach now."
Joe, in a way, can understand where Mankins' head is. He was a key member of a perennial Super Bowl contender. Then, in a snap of a finger, he is shipped off to a franchise that is on its third coach in four years and hasn't tasted the fruits of a playoff win going on 12 years and counting.
Mankins had to leave close friends behind not to mention uprooting his family. He spoke of taking his kids shopping today and stocking their bedroom dressers with loads of Bucs gear.
The only show of emotion Mankins displayed was when he was asked if his skills were diminishing with age. Let's just say that irked him. Later, he was asked about his health and he quipped, "My health is fine. The season hasn't started yet."
In a sobering remark, Mankins confessed, "I don't know how I am going to learn the playbook in a week."
Leaving the Patriots, he said, was "a sad day."