Keep Louis Murphy Out Of The End Zone
August 8th, 2014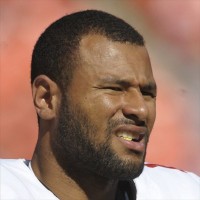 Florida Gators great and Bucs wide receiver Louis Murphy has had a decent pro career.
Now on his fourth team in his sixth NFL season, Murphy has 121 career catches, but the end zone has been a sour hangout for him.
Renowned BSPN stats geek Mike Clay pumped out troubling numbers on Twitter yesterday. Murphy, it seems, is hardly a go-to guy in the red zone.
@MikeClayNFL – Louis Murphy has 4 catches on 33 career end-zone targets. 12% is NFL-worst among players with 15+ EZ targets over last 6 years. #Bucs
Well, Joe doesn't have much use for the stat geeks, but sometimes their data is telling. In this case, Murphy is the worst in the NFL. That's not a spin job, and it's certainly not good.
On the upside, Joe would be surprised if the Bucs ever targeted Murphy in the end zone, given the massive targets they have in Austin Seferian-Jenkins, Mike Evans and Vincent Jackson. A slant to Murphy from the 6 yard line? Yeah, Joe could sure see that, and Joe and many other Bucs fans have seen that in training camp.