Jaguars 16, Buccaneers 10
August 8th, 2014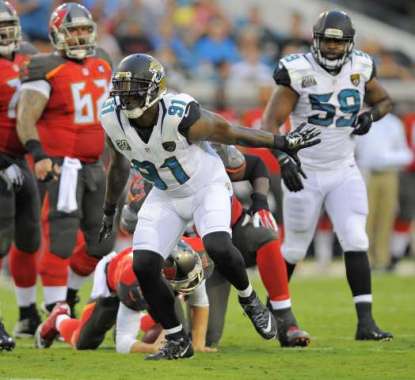 Defense! Defense! Dee-Fence!
"Ugly" is the word of the night for the Bucs' first-team offense, and the second-team offense. At least the blend of second- and third-teamers was effective.
Life is always dreadful in the NFL when you can't block. The trenches do matter.  They always will.
Josh McCown tossed a foolish pick-6 and fumbled twice. Those things tend to happen when you're running for your life and smelling the breath of opponents. Joe won't dare imagine the Panthers' nasty-ass defense tonight. That would guarantee a sleepless night.
Hopefully, this is just part of Jeff Tedford's plan to keep the Bucs' offense mysterious.
Hat top to wide receiver Tommy Streeter, a training camp standout, for his touchdown grab from Mike Glennon.
Good things were happening on defense, to be sure. Gerald McCoy looked like he did all through training camp: dominant. And the Bucs looked fast and hungry. A dropped pick by Major Wright with the first team was unfortunate, as was a fluke completion for the Jaguars, but that's nitpicking. The Bucs' defense looked good. They didn't let up points.
Nothing too noteworthy on special teams, other than Jeff Demps fans might have learned there's a lot more to returning kicks than Olympic speed. Coverage teams were sound. Eric Page seemed to draw heated words from coaches.
As for the rookies, Charles Sims was the standout, and Robert Herron made a heck of a catch of a pass thrown behind him.
Stick with Joe for so much more through the night and into tomorrow. Yes, Joe's in Jacksonville.