Hawk Is Challenging Coaches
August 15th, 2014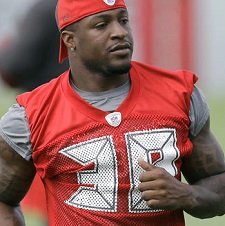 Lovie Smith keeps praising safety Dashon "Hawk" Goldson for being an extremely intelligent football player.
But why does Lovie think Goldson is so smart, given that he's never seen Goldson play as a Buccaneer outside of a little Tampa Bay practice time?
Joe asked Goldson why he thought Lovie was saying such things, even calling Goldson an added coach on the sidelines.
"It's just me going into the meeting room with [Lovie]. Sometimes I catch him watching film, and he'll just, you know, ask me questions. And I'll fire back at him," Goldson said. "I mean, 'I'm seeing this. Or why are we doing this?' I always have questions. I think that's what they like, man. Just challenging the coaches in the meeting room just like they challenge us, asking why. I goes a long way, I feel, just being able to understand why we do certain things. It makes you a better football player."
Hawk takes the field for the first time this season on Saturday against Miami. He got the night off in Jacksonville last Friday, as Lovie wanted to take it extra slow with Goldson, who is healthy but coming off winter ankle surgery.
As for whether he's corrected his illegal tackling issues that plagued him last season, Hawk said that ultimately the answer will come on the field.
Joe's very eager to see Hawk in Lovie's defense. It's easy to forget that Hawk was a back-to-back All-Pro safety with San Francisco in 2011 and 2012. That didn't happen accidentally. If he can get back to that level, the Bucs should be one of the most physical and feared defenses in the NFL.