First-Team Stocker Turns Blocking Corner
August 20th, 2014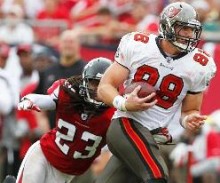 Yes, fan-favorite tight end Luke Stocker is still working with the first-team Tampa Bay offense. Joe confirmed that with Stocker today.
And much of that is about blocking. No matter how beastly rookie tight end Austin Seferian-Jenkins might be, it takes years to learn how to block consistently at the NFL level.
That's for tight ends, Stocker explained, in part because the basketball-sized tight ends (he stands 6-6, 267 pounds) have a greater learning curve.
"I think a lot of it has to do with technique and positioning and how to use your power and leverage, especially being taller guys, like most of us tight ends often are now. We have to learn to play low but also with good technique. It just take time and reps to get that down," Stocker said.

"I think two to three years is kind of where guys really turn that corner and understand how to use their leverage and power and their feet. Almost all tight ends are strong powerful guys, but you see some of those same guys aren't effective blockers."
Of course, Stocker believes he can be the Bucs' top blocking tight end, in addition to being able to catch the ball in his fourth season.
Stocker should get every shot to prove himself against a strong front-7 of the Bills. A good game Saturday should lock up Stocker's 2014 Bucs future.