Fading Jeff Demps
August 17th, 2014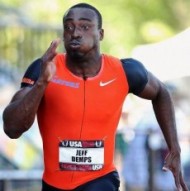 Unless Lovie Smith is hiding former Gator and Olympic speedster Jeff Demps as part of a secret plot to thrust Demps on the NFL via Jeff Tedford's never-before-seen plays, it seems Demps is on the wrong side of the roster bubble.
Against the Dolphins last night, Demps wasn't spotted on the field until the second half.
Demps didn't return punts or kicks, and he was the fourth running back to handle the football.
The first Demps look of the night? He dropped a Mike Glennon pass in his hands. Demps finished the night behind the Bucs' second- and third-team offensive lines, rushing for 31 yards and eight carries and failing to impress.
Joe's written countless times (to the disbelief of some readers) that Demps has displayed questionable hands through the spring and summer. That showed up again tonight. Joe doesn't care how fast Demps runs in a straight line, it's not necessarily football speed and he's useless if he can't catch the football.
There's a reason Lovie seems to have given up on Demps as a returner. Combined with his lackluster play out of the backfield, Joe wouldn't bet on Demps lasting in Tampa until September.