Extra Catching Work A Daily Routine For Martin
August 19th, 2014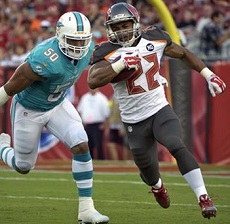 The Bucs had so much confidence in Doug Martin's pass-catching prowess they drafted running back Charles Sims in the third round primarily for his elite pass-catching ability.
Draft a guard to block for Martin? Nope. Draft a running back who would limit Martin's touches out of the backfield.
But the NFL was true to its nickname, "Not For Long." Sims had ankle surgery last week and will miss at least half the season, and the Bucs could shelve him until 2015.
Martin is the "bell cow," Lovie Smith reminded media yesterday.
As for Martin, yesterday he said he's always taken his pass catching seriously and has taken it up a level this season. Jeff Tedford's playbook demands it, Martin said.
"Every day during special teams [practice period] I have an assistant coach throw me balls and go through different type of situations, you know, low ball or high ball," Martin said. "And I've done a good job of catching the ball."
Martin went on to say he likes that he might be underestimated as a receiver.
Joe's very interested to see who the Bucs trust to complement Martin. Mike James sure seems like the best change of pace. During the radio broadcast of Saturday's preseason game, analyst and former Bucs tight end Dave Moore threw his hat in the ring for James, as well.
(You can listen to Martin chat with media below, via 620wdae.com audio.)