Don't Judge Josh McCown?
August 8th, 2014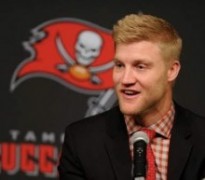 Former Bucs tight end Dave Moore, an astute analyst on the Buccaneers Radio Network, said after tonight's loss to Jacksonville that starting quarterback Josh McCown should not be judged by his performance.
Moore said the offensive line was so porous, so troubled, that an honest read on McCown couldn't be had.
Joe can't go there completely. Yes, the starting offensive line was Rosie O'Donnell ugly. But McCown made mistakes.
Ball security is ball security, and he fumbled twice. His pick-6 was a forced throw. A veteran needs to know how to let a play die and live for the next one.
Joe can't play pretend. McCown had a bad night.
A very dejected-sounding McCown was on the Buccaneers Radio Network after the game and had no explanation.
"We gotta be better," McCown said. "You put standards and expectations where you want to be.
"We left ourselves a lot of room for improvement because we just weren't where we need to be."