Bad "Popcorn" Night For Anthony Collins
August 8th, 2014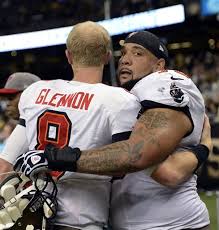 One of the many craters on the Bucs' first-team offensive line tonight was at a surprising position: left tackle.
That's where veteran, big-money, free agent Anthony Collins is trying to anchor the shaky unit. Tonight, he failed miserably.
Look, Joe knows Bucs fans don't like to hear negative overreactions in August, but Joe can't play pretend. Collins didn't get the job done. He allowed two sacks, and if former Bucs ironman Donald Penn did such a thing, then Bucs fans would be screaming "fatso" and looking to run him out of town, as they often did during his 100+ consecutive starts.
Yes, Josh McCown held the ball too long on one of Collins' sacks, but that doesn't mean Collins did a good job blocking. He didn't, making McCown pay by holding the ball a fraction of a second too long.
The stats geeks proclaim that Collins didn't allow a sack all last year. Whether that's accurate or not is unclear, but surely Collins had an excellent half a season. (Yes, he's never started for more than half a season) But Collins is hardly a proven commodity. So Joe can't just totally write off a rough preseason game.
Joe asked Collins to address his doubters this week, and Collins said those people should, "Get your popcorn. Time to show the game." It was Collins' way of saying, 'judge me on the field.'
Joe sincerely hopes nobody choked on their popcorn tonight. That would be understandable.