Coach Kudos For Melvin, Banks And Wright
August 9th, 2014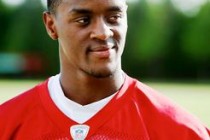 On that depth-chart thing the Bucs issued this week, the Tampa Bay starting cornerbacks are injured Alterraun Verner and Mike Jenkins.
They didn't play last night, but Lovie Smith shared some love today for two of their fill-ins.
This afternoon at One Buc Palace, second-year cornerbacks Rashaan Melvin and Johnthan Banks were singled out as strong performers in the secondary, along with safety Major Wright, who played a ton of snaps. He started for Dashon Goldson, who had been practicing well but the Bucs opted to play it safe with him as he recovers from offseason surgery.
Cornerback Danny Gorrer got the start with Banks, but it was Melvin and Banks who got the praise. Melvin was a bit of a surprise, given that he was in a walking boot earlier this week, still nursing a bum ankle.
This is all great news for the Bucs' depth in the secondary. Lovie has very high standards for his defense, which impressed in its debut last night.