Clayborn Fined For Untucked Jersey
August 21st, 2014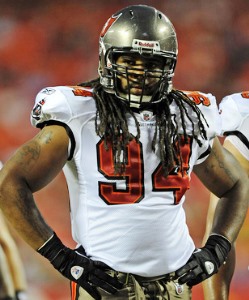 Bucs defensive end Adrian Clayborn has been fined by the NFL $5,500 for wearing an untucked jersey during a preseason game this summer. Clayborn Twittered out a vague detail about this yesterday.
$5,500 for an untucked jersey…how is that even legal?! That's really not right.

— Adrian Clayborn (@AJaClay) August 20, 2014
While it was unclear who Clayborn was Twittering about, Clayborn confirmed to Joe this afternoon that he was indeed fined $5,500, but declined further comment.
Joe has to agree with Clayborn's Twitter. Joe understands the NFL doesn't want players to look slovenly on the football field. But hitting a guy over five-large for an untucked jersey seems rather much.
It is unclear in what game Clayborn made the grave offense.