Bucs Cut 12, Will Have 10 More By Saturday
August 29th, 2014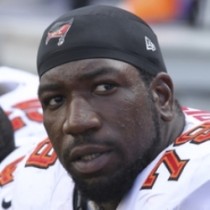 Updated: 2:29 p.m. Highlighting this latest round of slicing is one of the chosen three, Jamon Meredith, one of only three unrestricted free agents the Bucs re-signed this offseason. Another was Danny Gorrer, who was released with an injury settlement earlier this week.
Waived today:
DB       Marc Anthony
LB       Nate Askew
T         Edawn Coughman
CB       Kip Edwards
DE       T.J. Fatinikun
CB       Anthony Gaitor
LB        Ka'Lial Glaud
CB       Keith Lewis
OL       Andrew Miller
FB       Lonnie Pryor
OL       Jeremiah Warren
RELEASED
OL       Jamon Meredith
Undrafted rookie Nate Askew out of Texas A&M was a tiny bit of a surprise. He's a very athletic kid who seemed to have a shot as a sixth linebacker playing all phases of special teams. Joe would expect to see Askew on the practice squad, or somebody else's practice squad.
Per Greg Auman of the Tampa Bay Times, veteran DE Larry English, the former Chargers first-round pick, was cut, too. But that's not yet official by the Bucs.