"A Real Achilles' Heel"
August 12th, 2014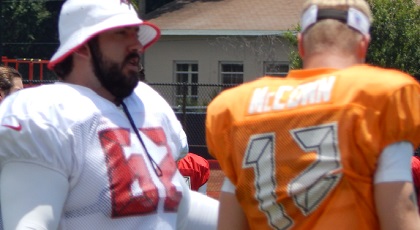 The Bucs have a weakness, and a renowned NFL analyst thinks it could sink the 2014 team to ugly depths.
National attention for the Bucs' offensive line issues are ramping up.
Fight-instigating, barista-training, pedestrian-bumping, olive oil-lapping, popcorn-munching, coffee-slurping, fried-chicken-eating, oatmeal-loving, circle-jerking, beer-chugging, cricket-watching, scone-loathing, college football-naïve, baseball box score-reading Peter King, of Sports Illustrated and NBC Sports fame, isn't sure the Bucs can overcome their guard woes, not with Josh McCown under center.
King spoke on the local WDAE-AM 620 airwaves this morning.
"The guards, that to me is an Achilles' heel, a real Achilles' heel. I'm skeptical. You gotta protect Josh McCown. You just do. He's not going to be able to run around and create a lot of opportunities with his legs," King said.

"That was the thing that really worried me. If you ask me, they have a good chance to be vastly improved, I mean like almost opposite [record] improved. But I think if they don't protect their quarterback, that's going to go by the wayside."
King likes the Bucs weapons, thinks McCown is much better than people think, and he also still wonders whether the Bucs got it wrong when the cut Darrelle Revis. He also insists the Bucs need a strong running game to win under Lovie Smith.
You can hear all of King's takes via the audio below.