10 Things To Look For In Jacksonville
August 8th, 2014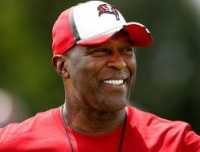 There'll be all kinds of things to pay attention to when the Bucs kick off the 2014 preseason in Jacksonville this evening.
Here are 10 things Joe will keep his eyes on:
1) Pass rush: Lovie Smith says his front-4 finally will be let loose. Damn, it would be nice to see consistent pressure. What a change that would be.
2) Run blocking: There are ways to work around sorry pass blocking, but you can't fake run blocking. The Bucs want to run the ball, and they at least want to see what they have in their interior line. Some success tonight would be encouraging.
3) A returner other than Eric Page: Joe sure gets the feeling the Bucs would love to replace Page with Jeff Demps or rookie Robert Herron, but those guys haven't proven it in practice. Count on various returners getting a shot.
4) Da'Quan Bowers: The depth chart lists Bowers as Gerald McCoy's backup, and Bowers has been working inside. Let's see if he can handle future beer truck driver and bellhops during the second and third quarters. He couldn't last preseason.
5) Austin Seferian-Jenkins: Joe's promised his readers and radio listeners that Seferian-Jenkins is a beast, major league weapon.
6) Mike Glennon: Lovie says he's the "quarterback of the future." Joe would love to see him look like it.
7) Danny Gorrer: He'll get the start at cornerback with Mike Jenkins and Alterraun Verner hurt, plus lots of playing time with other injuries at the position. Joe wants to see if Gorrer looks like solid veteran depth.
8) Jeff Demps: Lovie gushes over Demps' speed, and Demps should get opportunities in the running, passing and return game tonight. Make-or-break time for him.
9) Lavonte David: No. 54 told Joe he's starting lower and playing lower. It's made him a quicker on cuts and in general, he said.
10) Second-half offense: Yeah, it's meaningless preseason, but after being so darn deprived of second half points last year, Joe will take it — and enjoy it.