Your Hardest Working Buccaneer
July 23rd, 2014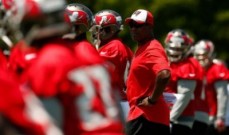 Oh, the pride is oozing.
Nobody works harder than this Buccaneer, says Lovie Smith.
Lovie even told a national audience yesterday.
No surprise to learn Lovie was referencing two-time Pro Bowler Gerald McCoy.
You can listen to Lovie's chat on Mike and Mike on ESPN Radio via the audio link below. Joe's already referenced this interview in the scope of Lovie Smith's take on the Father Dungy drama.