Licht: Analytics Help Score Playcallers
July 23rd, 2014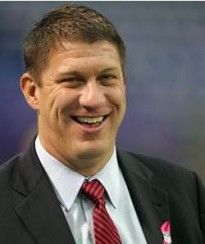 Bucs general manager Jason Licht is proud to say he's not a salary cap guy. He's a film junkie, a scout at heart.
But Licht spoke tonight about how he's transitioned in recently years into a numbers lover.
In a revealing sit-down with the dean of Tampa Bay sports radio, Steve Duemig, on WDAE-AM 620, Licht explained that the "analytics," aka the stats geek crowd, are a critical component of his administration.
On analytics, Licht said, "10 years ago I would have said pffff" regarding moneyball type stats helping shape a football team. But he went on to explain that he's thoroughly changed to the point where analytics were "an important part of my demands" upon taking the Bucs job.
Licht said his analytics department will continue to grow.
Interestingly, Licht said stats are used for not just personnel. "More than just players, it's the evaluation of playcallers."
So did Jeff Tedford pass muster with the stats geeks? Who knows, but the stats crowd has made it clear Tedford was a run-heavy guy through his college career.
As for the new Buccaneers analytics team, man, they must have had a field day dissecting last year's 32nd-ranked offense.