Training Camp Alert
July 25th, 2014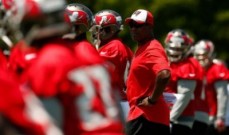 The Lovie Smith era opens wide for fans this evening at One Buc Palace. Practice kicks off at 4:30 p.m. and runs until 7. Admission is free.
Inevitably, Joe will hear voices in the crowd saying where's Mike Glennon what kind of soft practice is this?
The bummer reality of recent NFL labor laws means teams can't have two-a-day practices in pads and pound each other into the ground like they did when Tony Dungy and Chucky patrolled the sidelines.
The Bucs, per the current training camp schedule, won't be able to wear pads and get into hitting until Sunday's practice. Until then, practice will look like what media gets to see during "OTA days."
There will be plenty of drills by position groupings, but no contact. Lots of fun offense-vs-defense to watch, but without hitting or any real line play, it's just a really cool brand of flag football.
Joe's not trying to discourage anyone from attending training camp today and tomorrow. Hardly. It's a great time.
But if you're aching to see Adrian Clayborn fight to win a job and lock horns with Demar Dotson over and over, or you want to see newcomer studs Anthony Collins and Michael Johnson square off, or you're curious to see if Dashon Goldson has learned how to tackle properly, just don't waste time wondering why you can't.