Derrick Brooks Jumps Into NFL Suit Role
July 25th, 2014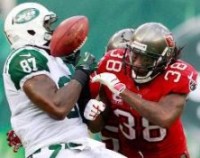 Has the often punished "Hawk" found a valuable friend?
Maybe.
Bucs icon and soon-to-be Hall of Famer Derrick Brooks has a new job with the NFL.
Per ProFootballTalk.com, Brooks has become one of two hearing officers devoted to reviewing appeals of fines related to on-field infractions. It's some sort of joint position funded by the NFL and its players association.
"Derrick was jointly selected by the Players and the NFL and we expect he will bring expertise and professionalism to his role as an arbitration officer," NFLPA Senior Director of Player Affairs and Development Jason Besler said. "We look forward to working with him."

Brooks and Ted Cottrell will handle the appeals of fines and suspensions arising from illegal hits and other on-field misconduct. They will be jointly paid by the NFL and the NFLPA, making it much different than the usual judge-jury-executioner approach the NFL applies to discipline.
No Joe is sure Brooks will be thorough and impartial and adhere to the confusing NFL rule book and labor agreement.
But it's hard not to feel good have a man who bleeds pewter and red in a very high and influential place.