Tommy Streeter Is Getting Noticed
July 31st, 2014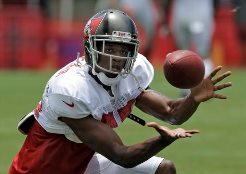 Of course, Joe knew who wide receiver Tommmy Streeter was. He was a massive target with wheels who scared the life out of shorter defensive backs in the ACC because of his size and speed.
The 6-5, 215 receiver is a huge target and potentially a future member of the "Dunkaneers." During this spring's OTAs and minicamp, Streeter was a total non-factor.
So when training camp began this summer, Streeter was completely off the radar. All of a sudden, Joe started seeing a guy making catches and moves that blew out cornerback's ankles (Rashaan Melvin being the main example) so Joe had to look at his roster to see who it was.
Lovie Smith saw the same thing but at least he had Streeter's No. 85 memorized.
The best thing a player vying for a roster spot can do is make the head coach notice you, in a good way. Streeter has apparently done that.
"Tommy, he's another guy with good size, good height, good speed," Lovie said. "He's been catching the football. You talk to him, he doesn't want a whole lot of compliments. He just says, 'Hey, I'm trying to do my job and trying to get better each day.'

"Saying all the right things and just making plays. That's all you have to do as a player. Don't worry about 'Am I going to make the roster? Am I going to get enough plays?' If you get one play, if you do something, you'll continue to get more. We've noticed him.

"As we initially came to camp, he wasn't one of the guys we were talking an awful lot about, but he's been pretty steady every day."
Granted, there is a lot of football to play before the Bucs reach their final-53. Right now, if Joe had to guess, Streeter would (barely) beat out Louis Murphy for a job. But a lot can change in the next month. If Streeter grows cold and Murphy starts to heat up (he's catching the ball better of late), then it would be Murphy who would win the battle.
How cool is the depth on this team that there is a quality battle for the No. 3 and No. 4 receiver spot? That rarely happened in years past.