McCown Feeling Like It's 2002
July 31st, 2014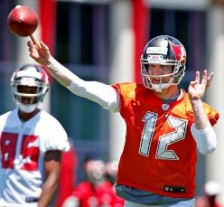 It was Vincent Jackson raving earlier this week about how Josh McCown is an extraordinary athlete, surprising his teammates at 35 years old. (You can read about that here.)
So today Joe figured he'd asked McCown if he still felt like the same guy who cranked out a 4.57-second 40-yard dash and a 38.5-inch vertical leap at the NFL Scouting Combine back in 2002.
McCown, of course, has low mileage on his body, the result of only 38 NFL starts. He's in great shape and said he hasn't lost any of his athletic edge in 12 years.
"I think probably every 35-year-old would tell you that (laughs). No, But I mean don't feel any different," McCown said. "So I don't know; you'll have to look at the tape and see. But I feel good. My body feels good. It really does. It doesn't feel a whole lot different than my first few years in the league."
So there you have it, McCown's faster than Cam Newton, and more explosive than Newton and Colin Kaepernick, if you go by their pre-draft data. He's got an array of weapons, too, far more than Newton will have this year.
It feels like the Bucs have a great recipe for success. McCown just has to prove he's really a new man after five good starts in Chicago last year. That's probably the story of the Bucs' 2014 season right there.