Tie Won't Go To Clayborn
July 13th, 2014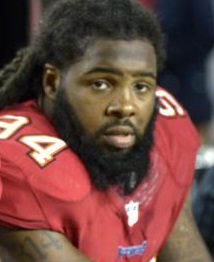 As a former first-round draft pick entering his contract year because the Bucs didn't exercise their fifth-year option on him, Adrian Clayborn will be an interesting call for Lovie Smith this season.
If Clayborn, say, has seven sacks as a starting left defensive end in 2014, then the Bucs will be forced to pay him a king's ransom to retain his services.
Young productive pass rushers always command huge dollars in free agency. Clayborn turned 26 this month.
But second-year man Will Gholston, last year's emerging starter at LDE, is on the books to earn only $585,000 in 2015. So if you were Lovie and general manager Jason Licht, who would you want to win the starting job?
Now Joe's not saying the Bucs will play favorites, but certainly a tie or a near tie in preseason performance would and should go to Gholston.
Licht says he's all about "value," (presumably Lovie is on the same page) and Gholston succeeding certainly would be the value pick.
Gholston is three years younger than Clayborn and seems to have a higher ceiling and more versatility — stuff to keep in the back of your head as training camp kicks off.