The Countdown: Worst 20 Buccaneers Of The Past 10 Years — No. 18
July 13th, 2014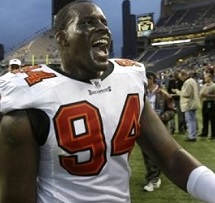 All the Top-Whatever lists across the Internet got Joe thinking of the Buccaneers' drought since their Super Bowl glory. And that motivated Joe to rank the 20 worst Buccaneers of the past 10 years.
Immense thought went into this at JoeBucsFan.com world headquarters. There was even an all-night screaming session where a top intern was standing on a table yelling, "If Derrick Ward isn't on this list, then I quit." Joe had to get the poor kid a beer before Joe fired him for spilling it.
Primary consideration was given to expectations for a player combined with his on-field performance. Off-field behavior was a factor, and players were not punished for injuries.
No. 18 — defensive end Kyle Moore (2009, 2010, preseason 2011)
Kyle Moore loved a good snooze. Unfortunately, the Bucs' 2009 fourth-round pick was known to nod off during team meetings as a rookie and, subsequently, not know the defense.
So what did the Raheem-Dominik regime do? They gifted Moore the starting left defensive end job in 2010! Great evaluation, guys! (Keep in mind some hungry dude named Michael Bennett was on the roster.)
Joe can't fault Moore for being given a starting job he didn't deserve, but playing in 15 games and failing to record a sack absolutely was on Moore. That's damn hard to do as a defensive end in the NFL.
During those years, Joe referred to him as "sackless Kyle Moore." The nickname was deserved. Moore managed a strong 2011 Bucs preseason, including a three-sack game, before being cut.
After a stint on the Lions practice squad, Moore was sackless for the Bills in 2011. He recorded three sacks for Buffalo in 2012, but was out of the NFL last season. Moore is now a member of the Toronto Argonauts of the CFL, on their injured list.
The Countdown: Worst 20 Buccaneers Of The Past 10 Years will run once or twice daily until No. 1 is revealed on Thursday, July 24.