The Countdown: Worst 20 Buccaneers Of The Past 10 Years — No. 4
July 21st, 2014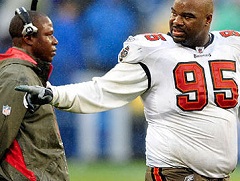 The popular NFL Top-Whatever craze got Joe thinking of the anemic Tampa Bay teams of the past 10 years. Not a Bucs playoff victory since their Super Bowl glory. Ugh!
That motivated Joe to gather with his senior and junior level staff and rank the 20 worst Buccaneers of those years. Serious deliberations went down at JoeBucsFan.com world headquarters. Beer bottles were thrown. Game film came out. Arguments ensued.
One poorly dressed intern even quit when he was told Kellen DJ Toes On The Line Winslow wasn't a finalist.
In the end, primary consideration was given to expectations combined with on-field performance. Off-field behavior was a factor, and players were not punished for injuries.
No. 4— defensive tackle Albert Haynesworth (2011)
Haynesworth is deserving of this spot for one simple reason: he made those around him measurably worse.
Haynesworth was so inept it was hard to stomach. Shortly after the close of the 2011 season, one in which the Bucs defense was torched repeatedly en route to 10 straight losses, Joe had an extensive chat with former Bucs pass rush coach Keith Millard, the former All-Pro defensive tackle.
Millard revealed in detail how Haynesworth was disruptive, but not in the way Gerald McCoy, the man Haynesworth replaced, disrupts offensive backfields. Millard explained that Haynesworth was screwing up his teammates.
JoeBucsFan.com: Albert Haynesworth seemed to be doing his share of freelancing on the D-line and was in and out of his gaps. Was that a problem when you're trying to coach young guys?

Keith Millard: When Albert got here, I remember when Albert played at Tennessee, he was a very disruptive force. But they didn't really play a lot of technique. [Former Titans defensive line coach Jim] Washburn was about getting off, getting up field, but not about reacting to the run and technique to react to the run. Albert was a little behind in that facet when he got to Tampa, even in the preparation to know what's coming and how to help yourself, He just wasn't schooled on anticipating and taking things away before they even happen. That was all new to him. Even his stance, that made it different for him to the play the blocks [Tampa Bay] would get week in and week out … He was getting two-hole scooped. They were blocking two guys with one guy. … He was pretty beat up when we got him and not practicing much and only playing on Sundays. That really didn't create a situation where he was going to improve much with us coming in late with little practice time.
Former rockstar general manager Mark Dominik claimed Haynesworth out of desperation, following Haynesworth getting waived by the Patriots. McCoy was injuredt and the Bucs had no answers on the bench. The sad thing was Dominik claimed his personal scouting of Haynesworth revealed a player who still had it.
BSPN was listening and documenting.
"I watched every game twice. I watched how he played, his effort, his motor, what they asked him to do, what he actually did do," Dominik said, adding that what he saw on tape was a player that can be "strong, powerful, dominating, disruptive and can overpower an opponent."

"When I see him hit a gap or shoot a gap, he still can play football," Dominik said. "He's not one of these older players that really can't play anymore. I just want him to play our way."
At least the Bucs didn't invest much in Haynesworth, but his performance was cruel and unusual punishment to everyone who bleeds pewter and red.
No. 5 — Sabby Piscitelli
No. 6 — Myron Lewis
No. 7 — Byron Leftwich
No. 8 — Edell Shepherd
No. 9 — Jerramy Stevens
No. 10 — Jim Bates
No. 11 — Gaines Adams
No. 12 — Keydrick Vincent
No. 13 — Dre Moore
No. 14 —Kevin Ogletree
No. 15 – Sean Mahan
No. 16 — Da'Quan Bowers
No. 17 — Daniel Te'o-Nesheim
No. 18 — Kyle Moore
No. 19 – Jeremy Trueblood
No. 20 – Michael Clayton
The Countdown: Worst 20 Buccaneers Of The Past 10 Years will run once or twice daily until No. 1 is revealed on Thursday, July 24.