Remember Lovie's Chosen Three
July 22nd, 2014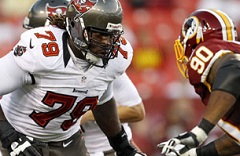 Yes, Joe was among the hardcore Tampa Bay faithful who read every last word of the Lovie Smith, First 100 Days, anthology on Buccaneers.com. If you haven't, then grab a six-pack and block out a couple of hours.
One choice section focused on the Bucs' approach to free agency, and it could prove to be an important point worth noting as training camp battles unfold.
Guard Jamon Meredith, linebacker Jonathan Casillas and cornerback Danny Gorrer are the only three of the Bucs' 19 unrestricted free agents who were re-signed this offseason. They're the only men Lovie and general manager Jason Licht deemed worth keeping.
Joe's been told how excited the organization is about Casillas, and writer Scott Smith noted that Casillas was the only unrestricted free agent signed before the market opened. The Bucs wouldn't risk losing him.
But Meredith is the one Joe's keeping an eye on.
Meredith played well at guard in 2012, when he quietly replaced injured Davin Joseph and made 12 starts on the NFL's ninth-ranked offense. The New Schiano Order had little use for Meredith last year, it seemed, using him in desperation after Carl Nicks, Ted Larsen and Gabe Carimi couldn't make it at left guard.
However, when the Bucs offense revived in November, it coincided with Meredith's return to the starting lineup, but then Schiano benched him later in the season.
Joe wrote earlier about how rookie Kadeem Edwards and possible breakout guard Patrick Omameh could become starters. That's true, because the positions are wide, wide, wide open. But Meredith, at least, might garner a lot more trust from the Bucs' coaching staff, given that they've seen plenty of NFL film on him.
As for veteran guard Oneil Cousins, well, if he starts, then at least some electricity will be spared.