Lovie Weighs In On Dungy Drama
July 22nd, 2014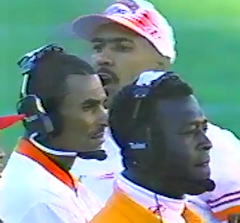 So you probably know by now that the national media has its panties all twisted up over Tony Dungy's comments claiming he wouldn't draft openly gay defensive end Michael Sam because he wouldn't want to deal with the distraction to his team.
Endless media types have been making all kinds of assumptions and have ascribed all kinds of motives to Dungy's take, which was offered to veteran Tampa Tribune scribe eye-RAH! Kaufman months ago but only published this week.
Father Dungy has since clarified his remarks.
On Monday afternoon while on vacation with my family, I was quite surprised to read excerpts from an interview I gave several weeks ago related to this year's NFL Draft, and I feel compelled to clarify those remarks.

I was asked whether I would have drafted Michael Sam and I answered that I would not have drafted him.  I gave my honest answer, which is that I felt drafting him would bring much distraction to the team. At the time of my interview, the Oprah Winfrey reality show that was going to chronicle Michael's first season had been announced.

I was not asked whether or not Michael Sam deserves an opportunity to play in the NFL.  He absolutely does.

I was not asked whether his sexual orientation should play a part in the evaluation process.  It should not.

I was not asked whether I would have a problem having Michael Sam on my team.  I would not.

I have been asked all of those questions several times in the last three months and have always answered them the same way—by saying that playing in the NFL is, and should be, about merit.

The best players make the team, and everyone should get the opportunity to prove whether they're good enough to play.  That's my opinion as a coach.  But those were not the questions I was asked.

What I was asked about was my philosophy of drafting, a philosophy that was developed over the years, which was to minimize distractions for my teams. …

My sincere hope is that we will be able to focus on his play and not on his sexual orientation." … You can read more via the link above.
Blah, blah, blah, Joe doesn't give much of a hoot about all this.
Lots of players out of college present a potential distraction to an NFL team. If they're extremely talented, they'll be drafted by someone regardless. Sams was drafted by the Rams, and St. Louis will have its share of media distractions as a result but have decided Sams is worth it. For Joe, that's where the story starts and ends.
Lovie Smith was asked about Father Dungy's comments this morning on ESPN Radio.
"Tony is a man of conviction," Lovie said. "He says what's on his mind. So I'm not going to try to critique what Tony said. I'm sure Tony would evaluate all players and he felt like, if taking everything into consideration, if they could help his team win, he would take them on [his] team.
"That's how we look at it [on the 2014 Buccaneers]. We evaluated all the players. There are pluses and minuses for every football player."
Lovie went on to say a college prospect becoming a potential distraction is one of many factors he considers when evaluating players.