Preparing For The GMC Onslaught
July 3rd, 2014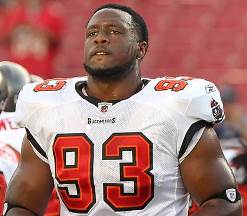 When Lovie Smith was hired by Team Glazer to take over the Bucs, it meant one thing: Gerald McCoy was about to become a superstar.
If there was ever a coach to enable a defensive tackle to thrive, it was Lovie. Since getting hired, Lovie has made no bones about how the Bucs defensive line must put the quarterback on the ground.
And that means it is time for GMC to really shine. Arguably one of the better tackles in the game, GMC could push his way to the top of the NFL under Lovie's defense, notes Robert Mays of Grantland.com.
The reason penetrating defensive tackles have found success with Smith isn't complicated: He allows them to. The Bears rarely did much blitzing under Smith, but when they did, it was often a double-A-gap look that, if anything, took blockers further away from players like Harris and Melton. Most of the time, Smith's 3-techniques were free to operate with the space they covet, and their job with that space was to get up the field.

"I love it," McCoy said earlier this offseason. "It's just an up-the-field penetrating front, Cover 2 coverage, and it really just depends on the defensive line to take care of the pass game. They always tell us if you're not rushing, you're stealing. We've got to get to the quarterback and it makes it easier on everybody else."

McCoy went on to say he thinks Tampa Bay's defense has a chance to be "scary" with Smith in charge, a possibility that seems very real. Defensive end Michael Johnson, the Bucs' no. 1 priority in free agency, is the type of pass-rusher the Bucs have been missing outside of Michael Bennett's 2012 season, and newly added Clinton McDonald is a good penetrator in his own right. Add that to the perfect pairing of Smith and McCoy, and scary might just be the start.
Joe wrote yesterday how he is geeked to see what the revamped defensive line will do in making opposing quarterbacks eat grass. Damnit, it's been far too long since we have seen opponents wet themselves worrying about protecting the quarterback.
If that defensive line improves like Joe believes it will, then a good reason for that will be the play of GMC, who Joe believes could bring back vivid memories of Warren Sapp. So expect to see GMC ending more plays on top of quarterbacks this fall.