NFL Coaches, Execs Rank McCown 24th In NFL
July 3rd, 2014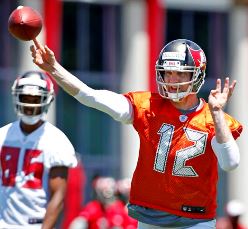 A comprehensive ESPN survey of general managers, former GMs, scouts, working coordinators, head coaches and others employed by NFL teams sought to learn who Xs and Os types believes are the best — and worst — starting quarterbacks in the NFL.
Compilations of the results identified four tiers of gunslingers.
Those queried were asked only to assess projected starting quarterbacks, so Mike Glennon was not part of the festivities. Josh McCown checked in at the bottom of Tier 3, ranked 24th overall among starters.
24. Josh McCown, Tampa Bay Buccaneers

Teams will be watching to see how McCown's 2013 season in Marc Trestman's system translates to Tampa Bay. Some see a 34-year-old QB with no résumé before last season, when McCown arguably provided an upgrade from Cutler with 13 touchdown passes and one interception.

"We got ready for him last year and boy, did he have a good season," a defensive coordinator said. "I would have to put him in the three group because you have to factor age in there and it might have just been that perfect storm, but he played well last year. It could have been the system. Maybe it was right with the reads and what they did. Good for him."

A head coach called McCown "a four who played like a three" or better at times last season. (Joe's interjection: That "four" represents who those surveyed were asked to rate starters individually, not compared to others. (1 being elite play, 5 being lousy).
For those wondering, Drew Brees finished tied for first, with Matt Ryan tied for 8th, and Cam Newton led the Tier 3 QBs, ranked 16th overall.
What this all means is unclear. But it does tell Joe that many around the league don't consider McCown to be too better than Glennon. The "quarterback of the future" couldn't have been much lower than McCown among the ranks of Chad Henne, Ryan Fitzpatrick, Geno Smith, E.J. Manuel and others.
Regardless, McCown, Bucs executives and Bucs fans sure are looking for what feels like a miracle — to have a 35-year-old journeyman to craft a career year behind a shaky offensive line in a brand new offense with a coordinator making his NFL debut.