No Nicks — Day 2
July 25th, 2014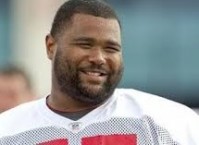 Joe's partners at WDAE-AM 620 had Lovie Smith on the air this afternoon and later reported that Carl Nicks will not be at training camp today, the opening day of on-field activities.
Feel free to speculate.
Joe's heard loud rumblings that Nicks' Bucs career is over. Stick with Joe through the night for all kinds of news from training camp.