"More Illegal Contact" Calls On The Way
July 31st, 2014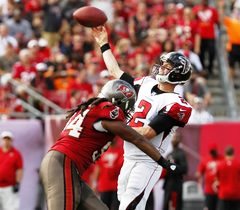 Joe confesses he dry heaved a little this morning after hearing longtime BSPN NFL insider John Clayton, "The Professor," talk about how the NFL is informing teams of the latest "emphasis" of game officials.
Don't think it's a quarterback-driven league? Don't think you need a stud quarterback to thrive and reach the promised land? Well, the NFL seems to disagree.
The guys who run America's game want offense, offense, offense. Speaking on the Ron and Ian show on WDAE-AM 620, Clayton said teams have gotten their warnings.
"Rule emphasis that's now going around. Just about every team is getting it either yesterday or today, that they are going to call more illegal contact, more defensive holding penalties, maybe even more interference," Clayton said.
Hmm, well, Dashon Goldson might not be a great credit risk right now.
Look, Joe's not surprised. This is the way the NFL is going. Flag football is good for fantasy players, which is good for TV ratings, which is good for not getting stuck with lawsuits and injury settlements.
Before you know it, players will be fined in practice with the NFL reviewing practice film.
If you want to hear The Professor's full chat, click below to listen via 620wdae.com.