Final Stages
July 31st, 2014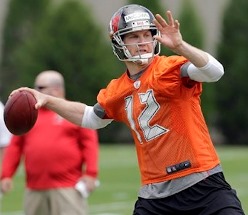 Yes, it is only the first week of training camp, Joe gets that. And in March, Bucs coach Lovie Smith hinted no one would see the complete Bucs offense until the regular season, and maybe not until late September or October.
From what Joe has seen, this is going to be a fun offense. It's difficult for Joe to comprehend a Bucs offense could make people stay in their seats/in their La-Z-Boys rather than going for a beer/going to the bathroom to take care of delayed smelly business.
With the first week of training camp nearing an end, it seems the Bucs offense is nearly complete, noted quarterbacks coach Marcus Arroyo.
"We're at that stage now where we're in the final stages of installing [the offense], working on the first day of red zone [Wednesday]," Arroyo said. "So we're starting to work on some of the intricacies of that. I think today was the first day we did it, and we got a chance to work on some things, as you saw us doing. Thought it was a productive day. Always good to get through a lot of the game situations, so you get to teach a lot of them. That's always the best part. [In practice], once you get to red zone [drills], it feels like a full game. You've gone through some normal downs, you've gone through some blitzes, you've gone through second-and-long categories, you've gone through third down, and now you're in the red zone – feels like now you can run it all through the plan. You get to see the full development of a gameplan, and really a full development of a quarterback."
Now Joe is not ready to anoint Josh McCown a Pro Bowl quarterback. The jury is still out. But, from watching practices, McCown is a helluva lot more consistent than former Bucs franchise quarterback leaky, sleepy Josh Freeman.
And McCown really gets the ball to the sidelines on short passes out of his hands damned quick.
As Joe stated earlier, he cannot remember a Bucs offense having the potential for big-plays like this one since Chucky's first year.
We all remember what happened then, don't we?