"Making Sure You Know What You're Doing"
July 10th, 2014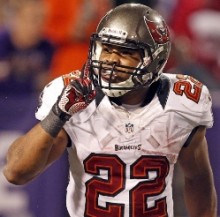 Joe's been listening to his trusty audio recorder this morning, searching for nuggets to share from Bucs spring practices.
One telling tidbit comes from the Muscle Hamster.
Joe talked to Doug Martin about what he's been learning this offseason from a football standpoint and what's different and, as is typical around One Buc Palace, Martin went to the quarterback position.
After the veteran leadership around him largely amounted to Josh Freeman and LeGarrette Blount through his first two season, Martin is appreciating the man taking charge under center.
"Josh [McCown], you know, he's very informative. He's a great leader, and he does a good job of making sure you know what you're doing," Martin said. "You know, like he'll talk to you on the field and he's a great leader overall from the quarterback position."
Martin went on to say he's leaning on McCown for his mastery of the offense as it relates to pass protections, among other nuances. "His locker is two away from mine. I'm asking him questions all the time and he has the answers," Martin said.
A Herculean worker in all aspects of the game, Martin might also be feeling the pressure around him for the first time in his career. That running backs competition is a good thing.