Video Glimpses Of Bucs Training Camp Day 3
July 27th, 2014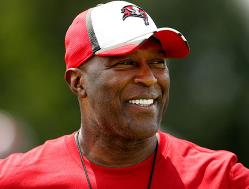 Ah, it was the second day the Bucs had a full training camp practice, and Day 3 of training camp overall. It was also the first day in pads.
Wide receiver Tommy Streeter seems as though he came to play with a second strong day of making plays. Jeff Demps again left a linebacker eating his cinders for another touchdown. And Mason Foster had a pick that was, well, too easy.
Get a look at the scenes below, courtesy of the Bucs' official Vine account.
Oh, and watch Jeff Demps fly.