Don't Call Lovie "A Name"
July 11th, 2014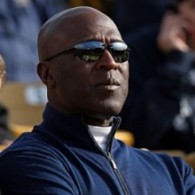 Things get mighty serious when you sit down to talk football with Lovie Smith.
One of the game's great defensive minds is a staunch advocate of the 4-3 defense and he's got steadfast rules on how his team should perform.
"You're calling me a name if you say that we're a not tough football team that plays hard," Lovie said recently. You can catch some of Lovie's laid back tough talk from USAFootball.com.