Sean Payton's Inaugural Glennon Mob Address
June 23rd, 2014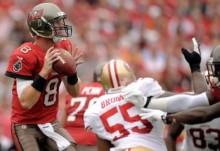 For those who missed it over the weekend, Joe brought word that Sean Payton served up genuine praise of the 2013 Bucs offense while answering a question about new Saints fullback Erik Lorig fitting in with the New Orleans offense.
Joe has dug up the actual audio — and video — so fans can draw their own conclusions. It's linked here.
Payton opens explaining that the Saints' 2013 opponents typically played the Bucs a week or two before the Saints matched up against the same team. So Payton watched a lot of Tampa Bay film while preparing "in the last half of the season."
"We felt like every time we put their offensive tape on, we saw a quarterback that was getting better," Payton said, before praising the Bucs' offensive line and Lorig for their role in an effective running game.
This was just fascinating — that a likely future Hall of Fame head coach so effortlessly and genuinely expressed how impressed he was by the Bucs offense. Either Payton was being forthright, or has a career in politics. Again, check out the video.
What is clear is the Bucs' brass likes their "quarterback of the future" and was buoyed by the respect Mike Glennon commanded around the NFL this offseason. If there is such a thing, it's a big preseason ahead for Glennon. Joe believes the better Glennon plays, the better command he shows of Jeff Tedford's offense, the quicker the potential hook will be for Josh McCown.
Joe's not predicting McCown's demise, but the reality is a losing record on Halloween, coupled with a typical Lovie passing attack, could launch the second Glennon era.