Donald Penn's "Step Back Shocker"
June 23rd, 2014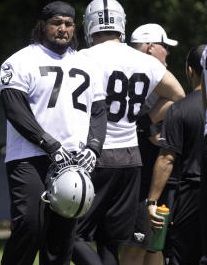 Joe enjoys keeping track of select former Buccaneers, especially standout Tampa Bay players.
After 108 consecutive starts for the Bucs, and very rarely sitting out a practice, Donald Penn is one of those guys.
Yes, Joe realizes many Bucs fans think Penn was a fat waste of a left tackle. But Joe's analysis of Penn's game never revealed the lazy, worthless play many fans believe Penn delivered. That's why Joe wasn't attempting cartwheels when Penn was cut in March so the Bucs could pay veteran Anthony Collins big cash to replace him. Collins never started half a season during his six years in Cincinnati. So Joe felt like the Penn for Collins trade was a bit dicey.
Of course, it was no surprise to Joe that Penn found work quickly in Oakland and Washington. And it's somewhat interesting that Raiders offensive line coach Tony Sparano, who reports claim jilted Lovie Smith this offseason, was Penn's lead recruiter to be Oakland's starting left tackle, so Penn revealed recently.
Chatting with Oakland media, Penn also shared how jolted he was by getting cut by the Buccaneers. Here's an excerpt of a Penn Q & A via the Raiders official website.
Q: In what ways did getting released motivate you to work harder?

Penn: "I always work hard, but getting released really made me take a step back, because I was in Tampa for eight years. I played a lot of football and I'd never been released before, except for my rookie year when I was on practice squad. It really was a step back shocker, but I try to look at it like it's in the past now. I'm ready to look forward and look forward to the future. I'm happy to be a Raider and I am going to use that as fuel and motivation going into next season, and I'm going to use that a lot. It's always going to be in the back of my head for the rest of my career."

Q: Is that a big deal when a left tackle is moved to the right, is it kind of looked at as a demotion?

Penn: "Everybody has their own opinion on it, and my opinion is, that when a left tackle moves to the right, they're usually towards the end, and I'm nowhere near towards the end. That was one of my biggest things with making the decision to come here and not to Washington. There are a lot of great guys in Washington. Bruce Allen, the GM that brought me in. Raheem [Morris], Jay [Gruden], all those guys up there. Doug [Worthington]. I have a lot more left tackle in me, and I plan on finishing my career at left tackle."
It'll be interesting to see what Penn might have left in the tank, especially after a training camp spent battling super rookie defensive end Khalil Mack.
Penn already has raved about Mack's energy and intensity. Joe remembers Penn battling with another relentless rookie motor in 2011 training camp, one that belonged to Adrian Clayborn. Of course, that season started great but ended in the historic collapse that left Joe and many fans with deep psychological scars.