Lovie The Stickler
June 15th, 2014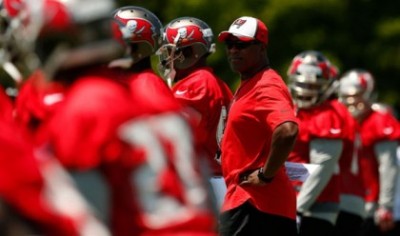 "Details! Details!" was a common scream from former Bucs commander Greg Schiano.
Lovie Smith doesn't scream. But those details count every bit as much.
Tampa Tribune columnist Martin Fennelly penned a neat offering today highlighting trust, belief and accountability under the Lovie regime.
One example showed how cornerback D.J. Moore felt Lovie's wrath after a great game when the two were in Chicago.
 "I had a game against Dallas," Moore said with a grin. "I had like 13 tackles, a pass deflected, an interception … I got a D-minus grade. It's just everything. Lovie wants your technique and your feet just right. Every time."

Smith smiled at hearing that.

"Even though he got those tackles, it's just not that," [Lovie] said. "It's everything we're teaching. How many tackles? Thirteen? There were probably 50 plays. What about those other plays? If I see something, I'm going to point it out. We're going to be consistent with everybody. Each week we get a grade. Each week, everybody is going to know what the standard is."
Of course, none of this is a big surprise from Lovie. He came to Tampa with an impeccable reputation of playing hard for him and singing his praises.
It's awesome to see how all things Lovie are being received now with the Buccaneers. It's great, feel-good stuff. But winning will take more than playing hard and responding to coaching. Remember, the cold reality is Lovie missed the playoffs five of his last six seasons in Chicago.