"He's Gonna Make Sure We're Winning"
June 14th, 2014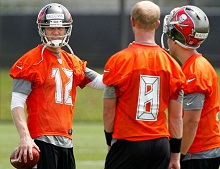 Take a glimpse into what one of the new and clear leaders of the Bucs offense looks and sounds like.
It's center Evan Dietrich-Smith, via SportsTalkFlorida.com. Joe's previously shared a couple of quotes from this minicamp interview, but there's some fresh stuff, too.
Dietrich-Smith draws a line in the sand when it comes to his perceived greatness of Josh McCown, "He's gonna make sure we're winning ballgames."
In Josh We Trust.