Lovie: Nicks Passed His Physical On Monday
June 10th, 2014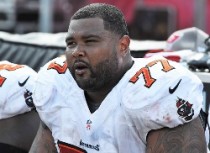 Lovie Smith drew an interesting line in the sand this afternoon.
Lovie said Carl Nicks officially is healthy and he expects Nicks to be ready when players return for training camp.
The former All-Pro guard ailing after two foot surgeries was present at One Buc Palace today but did not participate in Day 1 of minicamp practice, and he isn't expected to be working on the field this week.
"Nicks passed his physical on Monday," said Lovie, who went on to say he expected Nicks and the rest of the roster be ready to go in six weeks. Nicks spoke to media and concurred.
Is there hope? Bucs fans can dream.
Click here for video of Nicks speaking to the media this afternoon. He said he missed OTA practices because they weren't mandatory and because he was busy "fishing" and his two-week old daughter.