Bucs Minicamp Day 1 Practice Notes
June 10th, 2014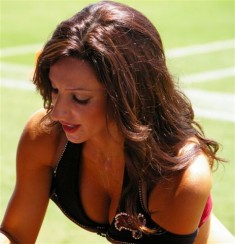 Joe enjoyed the afternoon practice on the sweltering, sweaty fields of One Buc Palace this afternoon, the start of mandatory camp.
All kinds of stuff was popping. Here are Joe's on-field observations:
*Carl Nicks is indeed here, wearing his trademark floppy hat chatting up a Bucs staffer while his fellow offensive linemen go through drills.
*Cones are set up in a straight line and RBs dance through them to develop quick feet.
*WRs work on hand moves with a tackling dummy then speed away. Drill is similar to what defensive ends work on.
*Defensive backs run down errant throws from the arm of an assistant coach, simulating an opposing QB on the wrong page with a receiver.
*Linebackers and DBs practice coverage on runs, using upside down trashcans to mimic offensive linemen.
*Rookie Kadeem Edwards at first-team left guard, along with Patrick Omameh at right guard.
*Cornerbacks coach Gil Byrd explodes on undrafted rookie corner Keith Lewis after his coverage of rookie Robert Herron drew a flat in the end zone. It was an ear-opener. "I TOLD YOU THAT WAS INTERFERENCE! THAT'S ON YOU! GET IT RIGHT! USE YOUR FEET! Lewis hung his head and walked back to where he was supposed to be.
*In a passing drill, good thing for there Doug Martin no hitting. McCown throws to Martin in left flat and if there were hitting, he would have been splashed by Lavonte David who was flying in to make the tackle (two-hand touch).
*Eric Page streaks across the middle to grab a Mike Glennon offering and then turn up field for six.
*Nice TD throw from Mike Glennon to veteran tryout receiver and former Panther David Gettis.
*"The Cannon" emerges. Glennon overthrows Skye Dawson by seven yards on a deep ball.
*Bad drop by Owusu, who got loads of first team work with Mike Evans sidelined. Owusu recovers three plays later with a sharp catch in traffic over the middle.
*Monstrous fullback Javorskie Lane, who lists at 5-11, 258 pounds, is spotted quite a bit in the passing game in 7-on-7 work. Interesting stuff. He seems to be a roster favorite among Bucs players.
*Some balance issues for Omameh. Almost knocked on ass in 11-on-11 work. Remember, there's no hitting.
*McCown tosses the pass of the day, an absolute laser in 7-on-7 work to Louis Murphy. It was a route up the seam in the slot, a rope of a 35-yard pass on Murphy's fingertips with Danny Gorrer in tight coverage. Offensive sideline really loved that.
*Gorrer exactly revenge on a badly thrown McCown pass. Joe had an end zone view, and McCown really forced a ball into Owusu over the middle that had no shot. Gorrer intercepted the batted ball.
*Not Mike Glennon's best day, another overthrow on an out route.
*McCown  looks sharp in 11-on-11 work.
*Vincent Jackson. with a bad drop on a short ball. Jackson, however, looked sharp in his limited practice work. He had been sidelined earlier this month with a hamstring tweak.
*Rashaan Melvin and Mike Jenkins primarily were the second-team cornerbacks.
*Third-team highlight, nice connections between Mike Kafka and Luke Stocker.
*Ronald Tally, a tryout defensive tackle who spent years with the Cardinals, has very quick hands in D-line drills.
*In those same drills, undrafted rookie Euclid Cummings, Gerald McCoy's likely backup, shows big time power and burst compared to his teammates.
*A rare huddle in 7-on-7 work. The consultation ended with McCown strike to Skye Dawson, a creative-looking play in left flat.
*Drop! David Gettis.
*McCown bomb complete to Owusu.
*Big play at end of practice was a 50-yard strike from McCown to Murphy, who's got very impressive wheels.
*Last off the practice field? Rookie TE hopeful Cameron Brate.