Is Josh McCown A Journeyman?
June 18th, 2014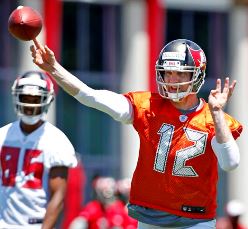 As the "Custodian of Canton," eye-RAH! Kaufman of The Tampa Tribune, said last month on SiriusXM NFL Radio, prior to a handful of games last season with the Bears, Bucs scheduled starting quarterback Josh McCown was the "epitome of a journeyman." Of course, that may have changed since.
In many NFL circles, referring to a quarterback as a "journeyman" is akin to saying he cannot hack it in the NFL; that he cannot stick with one team.
Now at the ripe age of 34, McCown will get his chance with the Bucs to grab hold of a starting gig full-time and not let go. So in this BSPN video, Prim Siripipat and Tim Hasselbeck whether McCown is a journeyman, or if he can shake that label for good.