Does Sean Payton Think Lovie Smith Is Nuts?
June 22nd, 2014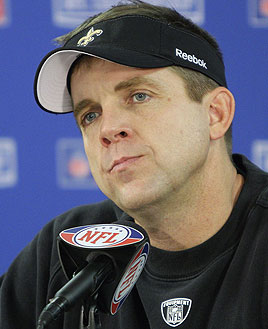 Recent comments by Saints head coach Sean Payton run counter to Lovie Smith and Jason Licht's approach to the rebuilding the Buccaneers' offense.
Payton delivered an innocent yet stunning take that not only will make the Mike Glennon Mob rejoice but will further arouse those Bucs fans who wonder why and how Mike James and Bobby Rainey outperformed Doug Martin last year.
Former Tampa Bay fullback Erik Lorig is now a member of the Saints. (The Lovie regime, it seems, had no use for a versatile athletic fullback who was more than solid on special teams.) Payton was asked about why he sought Lorig in free agency, and the Saints head coach delivered an eye-opening response, via Nola.com.
"The last half of the season, they ran the ball as well as anyone in the NFL," Payton said [of the Buccaneers]. "I don't know statistically what their numbers were, but we felt like every time we put their offensive tape on, we saw a quarterback that was getting better, an offensive line, and a fullback. We really didn't know much about him.

"We did our offseason homework like we would in free agency, and then you start going back and seeing that he was an outside linebacker converted to fullback.

"He's a little bigger in stature, so when you watch him play he's very physical," Payton continued. "I don't want to say there was a wish list, but it was (a thought that) let's pay attention to and let's see if we can get him on a visit."
Wow! So the takeaway from Payton was that Glennon steadily was on the rise behind a run-blocking offensive line with a good fullback. Think about that assessment from a renowned offensive guru answering a casual question about his new fullback.
The Bucs closed the 2013 season in New Orleans, so it's understandable that the Saints were dialed in to Tampa Bay's play in the second half of the season.
If Payton is being honest, then he must be among those stunned that Lovie Smith didn't roll with the "quarterback of the future" in 2014, and durable O-line fixtures Donald Penn and Jeremy Zuttah, and Davin Joseph.
As for the Bucs running game Payton alleges was good in the second half of 2013, Joe's not about to believe that was some sort of beautiful component of the league's 32nd-ranked offense. However, the Bucs did average 3.9 yards per carry after Doug Martin went down midway through the sixth game of the season against Atlanta.
That per-carry average includes Mike Glennon's mostly anemic scrambles (positive and negative) and, overall, was a tick higher than the offense delivered with Martin. If the Bucs averaged 3.9 yards per carry over the full season, that would have placed them tied for 24th in the NFL.
Again, Payton's comments were a mind-blower. Regular readers here can imagine Joe's reaction when absorbing them with a Shock Top in hand at 1 a.m.