Bargain Shopping
June 22nd, 2014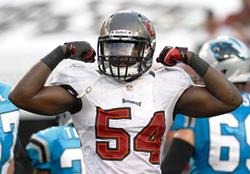 Joe knows Bucs fans were outraged last year when Lavonte David was snubbed for a Pro Bowl by his peers (had the votes only come from coaches and fans, David would have been eating pineapple).
Some Bucs fans also are irked that David is not higher on the NFL Network's Top 100 Players list.
And for good reason. David is easily one of the top three linebackers in the NFL and may very well be the best weakside linebacker. Joe can't think of another weakside linebacker better than David in Joe's Sunday morning fog.
As good as he is on the field, David may be even better for Team Glazer's accountants. ESPN.com Pat Yasinskas looks at what a value the Bucs have with David.
I just went through the Tampa Bay Buccaneers' contract numbers for 2014 with an eye out for guys that produce but aren't getting paid a lot (relatively speaking). When it comes to the Bucs and bargains, you have to start with linebacker Lavonte David.

The guy is an All-Pro, but his base salary is only $705,612 and his cap figure is $946,836. David undoubtedly will make up for it when he signs his second contract. The Bucs can't extend him until next year and you can bet they won't waste any time.
Soon, perhaps during the NFL summer siesta, Gerald McCoy will get a fat new contract.
Not too long after that, David will get one, too. One with lots and lots and lots of zeros. That's two huge contracts the Bucs are going to bite in the next 12-24 months.