Did The Players Get It Right?
June 5th, 2014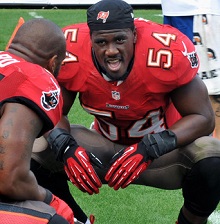 Joe's been intently watching the NFL Network series: Top-100 Players of 2014, as voted by NFL players, and Joe's getting a little nervous.
Players 51 through 60 were rolled out last night, and some of the games greatest linebackers were named in that group:
Vontaze Burfict
Justin Houston
Demarcus Ware
Deandre Levy
That's where Joe's anxiety comes into play. No Lavonte David yet, and we're halfway through the "Top-100." In fact, no Bucs have been named this year.
If the players voted for Ware, off a washed out season for the horrible Cowboys defense, then is it possible they screwed up royally and overlooked David?
Could David's extraordinarily public choke in the final seconds against the Jets have swayed opinions? Joe sure hopes not. David certainly is deserving of a Top-100 nod, but top-50 might be pushing it.
The next 10 (Nos. 41 through 50) will be revealed on Wednesday night.