"Around 80 Percent" Of The Playbook Is In
June 7th, 2014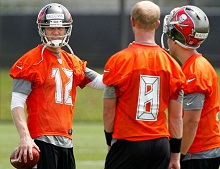 Talk to Bucs starting quarterback Josh McCown and he's bound to share how urgent it is for the 2014 Bucs to hit the ground running like a polished offense that's been together a long time.
Easing in to a new offensive line, a quarterback with new targets, and an offensive coordinator that has never called an NFL snap, is not OK with McCown.
McCown, as well as his offensive coaches, has everything in overdrive.
On Tuesday, quarterbacks coach Marcus Arroyo told Jenna Laine, of SportsTalkFlorida.com, that the Bucs don't expect to be installing many new plays and looks when training camp kicks off.
Arroyo was asked how much of Jeff Tedford's mysterious playbook is installed.
"We'd all like to believe you're upwards around 80 percent," Arroyo said, "that way we can create all the game situations. You know you've talked through everything. You've got stuff on tape. There might be some subtle nuances that you go into camp later on after the summer break to install, but outside of that, most of it's in."
Of course, Joe knows teams add play during the season and things change based on personnel and constant player evaluation, but Joe suspects there will be no loss of urgency.
McCown knows his job is on the line. Lovie Smith could have a quick hook. And the Bucs have a couple of nasty defenses awaiting them in Weeks 1 and 2. Facing Carolina and the Rams with a sketchy offense is dangerous territory.
You can enjoy the SportsTalkFlorida interview of Arroyo below.