Will Bucs Fans Deliver 3 Million?
May 14th, 2014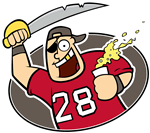 It's only May 14 and Joe is on pace to shatter the 3 million mark of pages viewed on JoeBucsFan.com in a single month.
Joe thinks it can be done. Tell a friend about how you enjoy the Bucs news, madness and mayhem here.
Thanks to all readers, and especially to the teeny, tiny percentage of you who leave comments in the comments section. Often, those comments are like flowers or warm chocolate chip cookies or funny greeting cards, and often they're like bags of feces at a doorstep or evil ramblings worthy of a restraining order. But they have their place in the landscape.
As always, stick with Joe through the day and night for all things Bucs. And if you think your business could be well served by having an advertising presence here, feel free to email joe@joebucsfan.com. Make Joe a reasonable offer, and he'll probably take it.