Who Is Running The Show?
May 5th, 2014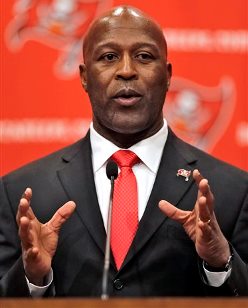 The NFL is a copycat league. Look at a few years ago when the Dolphins broke out a Wildcat offense against the Patriots and embarrassed Bill Belicheat in a Miami win.
Soon after, just about every team toyed with the Wildcat, thinking it was the rage of future, even drafting quarterbacks to run the Wildcat like Pat White (who was a miserable bust). It didn't take long for the Wildcat fad to fade because defenses figured it out.
Now we have the Seahawks, the Super Bowl champions, who have a strong head coach and a savvy front office. If you believe the info coming from Albert Breer of NFL.com, Team Glazer is trying to model its front office after the Seahawks'. Breer's claim comes via feature about who runs the show for each team.
Who's really in charge? The model here is close to Seattle's: a coach with significant on-paper power who isn't overbearing, and a younger GM who's allowed to do his job. Smith and Licht hit it off two years ago when Licht interviewed for the Bears opening that eventually went to Phil Emery. And thus far, this match of men with different football backgrounds has worked.

Smith has final say over the 53-man roster, with Licht controlling the draft and free agency. (In essence, the GM has leeway to build the 90-man roster, and then the coach is in charge of chopping it down.) Greenberg gives Licht a strong voice on the contract side, and he's a big reason why the Bucs' cap situation has been so healthy in recent years. Stokes, who shares University of Nebraska ties with Licht, has also become influential.

Both Licht and Smith report to the Glazers, with Malcolm's sons responsible for running many of the day-to-day operations of the team. As is the case in Cleveland and Miami, more organizational change is probable after the draft, with a likelihood existing that another strong personnel voice will be added from the outside.
While the model may be all well and good, for the model to succeed teams need to draft well. It is as simple as that. Seattle has drafted incredibly well the past few years. Whether that is because Pete Carroll had good insight into college prospects, one can only guess.
There are few instances where teams survive long periods of rotten drafts. As Ben Volin of the Boston Globe pointed out recently, only teams who have good quarterbacks can steer their teams through the stormy waters of bad drafts.