Underwear Football
May 30th, 2014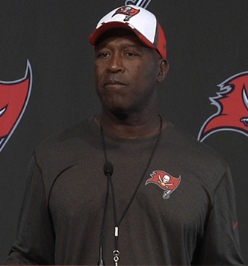 Joe gets a lot of emails, Twitter messages and just plain ol' comments on this here corner of the Interwebs asking about "How is [insert name] doing?" It is really hard to tell.
The Bucs, and all NFL teams, are in the underwear football season. Outside of seeing quarterbacks throwing to receivers, there is not much you can glean from underwear football.
There is no hitting, only a modicum of blocking, and zero tackling.
Even Bucs coach Lovie Smith noted there is only so much that can be determined from underwear football.
"I see we have a long ways to go just like on the offensive side of the football," Lovie said when asked about his defense. "It's just so much to put in, so many little fine details that you have to get ironed out by practice, but I see improvement each day. They're getting more and more comfortable in their roles. I'm talking – [defensive tackle] Gerald McCoy is a great player, but he has to get to know our defense, what's expected of him and in every situation, same thing for [linebacker] Lavonte David and across the board. We have excellent coaches on our staff and I see it coming though, we're going to be a good football team and in order to be a good football team we have to play great, not good, but great defense and I think we will."
Right now the Bucs are going through glorified walk-throughs. That's really all underwear football is. Walk-throughs at full speed.
What the Bucs are doing now is a long, long, long way from what they will be doing in training camp and preseason games, much less what the team will be doing in regular season games. Still, Joe understands why Bucs fans are excited. There's a lot to get excited about, and NFL fans' thirst for football is nearly unquenchable.