Mason Foster Tough On QBs
May 29th, 2014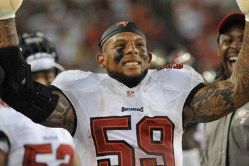 For reasons unlclear, some Bucs fans just have never warmed to Mason Foster as an inside linebacker.
Now as a rookie, Foster, who was an outside linebacker in college, was part of the worst linebacker unit in the NFL, flanked by then under-performing Quincy Black and erratic Geno Hayes. Starting as a rookie and getting zero help on either side of him, not to mention the big guys up front, Brian Price and Gerald McCoy, were hurt, Foster was simply lost. Overwhelmed.
That changed the next year when Foster began the season looking like he was going to eat pineapple. For reasons unknown, Foster's play slipped a little later in the season. After Black was lost for good with nerve damage to his shoulder (he was having his best season by far in the NFL), Foster was never the same that year.
Foster, in Joe's eyes, has been undervalued, aside from his rookie season. Joe even fielded a call yesterday when he appeared with his good friend, "The Big Dog," Steve Duemig, on WDAE-AM 620, from a fan who wanted Foster benched.
Joe doesn't see it and, apparently, neither do the stat nerds at Pro Football Focus. In fact, they really like how he rushes quarterbacks from his middle linebacker position. Pro Football Focus rates Foster as the ninth-best inside linebacker for getting after the quarterback, with two sacks, six hits and 10 hurries. Surprisingly, the stat geeks have Foster rated higher than Bobby Wagner and Patrick Willis on quarterback pressures and believe Foster is NaVorro Bowman's equal.
That's some tall cotton there.
Foster is going nowhere soon. How much does Bucs coach Lovie Smith like Foster? He's taking over the defensive play-calling duties from Lavonte David.