Today's Bucs Practice Notes & Observations
May 27th, 2014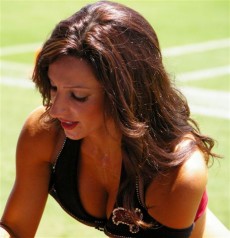 Your beloved Bucccaneers were back on the sunny practice fields of One Buc Palace today!
Spring workouts are in full swing. Joe, as always, brings you the sights and sounds, sans the sweat on Joe's brow.
* Early in practice, quarterbacks appeared to be way off, either underthrowing or overthrowing receivers. Of course, Vincent Jackson and Mike Evans were spectators, so guys who would be playing on the second or third teams got a lot of work with the first team, including speedy rookie Robert Herron.
* Undrafted rookie wide receiver Solomon Patton seemed to have broken both of Rashaan Melvin's ankles on a serious move. With Patton cruising down the left sideline on a down-and-out, Melvin had good coverage on him when Patton exploded to the inside, leaving Melvin eating dirt. Patton went from being blanketed, to running free as a rabbit.
* Louis Murphy goes low in traffic to dig out a Josh McCown pass along the right sideline.
* Skye Dawson hauls in a perfectly thrown pass from Mike Glennon on a down-and-out from the right sideline.
* Robert Herron seemed to be covered by a flock of defenders on a crossing pattern and then kick in the flux capacitor. He totally left the gaggle of defenders behind, catching a pass and then turning up-field for a touchdown. This guy has some serious, serious, explosive wheels. Think the Road Runner taking off from Wile E. Coyote. Beep… beep!
*Great, fun interaction during a kickoff cover team drill. Those on the return team were holding large blocking pads to engage the kickoff cover men, who were being schooled to "overexaggerate the hands" and then break free. That order was booming throughout the drill by assistant special teams coach Carlos Polk. Veteran cornerback D.J. Moore was being barked at to work harder with his blocking pad on the return team. Moore barked back, "You said don't be physical. I'm just trying to follow the rules." Polk talked to Moore, who was not about to lose what became a playful argument. It was a great illustration of the fine line teams have to walk during the "no-contact" spring practices.
* Mike Kafka leads Dawson nicely on a crossing pattern to the left as Dawson pulled away from defenders.
* McCown throws a ball behind a receiver in a crowd. Receiver jumped and reached back and the ball volleyballed in a crowd and should have been picked. To be fair, Joe is pretty confident the ball was intended for another receiver who was wide open, streaking from the left in the back of the end zone. Sorry, Joe didn't get a chance to jot down the open receiver's number.
* While Herron is getting a lot of work with the first team due to the absence of Jackson and Evans, Dawson getting a lot of work with the second team and a few snaps with the first team.
* Rookie running back Charles Sims waits for a hole to open up in the middle, and when there was daylight, squirted free, biting the football.
* Camp meat clash. WR Tommy Streeter and CB Keith Lewis battle for a well thrown Glennon pass. Streeter gave a weak effort on playing the ball, as did Lewis. Both heard it from coaches.
* Drop! By Solomon Patton.
* Want strength? During a pass blocking drill — two-hand punching and footwork — against a sled disguised as a defensive line, undrafted rookie free agent tackle Matt Patchan was the only guy Joe saw that physically moved the sled. Patchan stands 6-7, 300 pounds and played for Boston College.
* Fifth-round-pick rookie Kevin Pamphile getting work in drills at left guard. Getting a lot of coaching on his first step in pass blocking. Pamphile was a tackle in college.
* Coaches seemed a little upset with a bullet Mike Kafka pass thrown on a five-yard slant. Just a ball that appeared to be thrown too hard, though accurate. Joe heard a "know your tempo" among the shouts. Kafka followed that with a catchable high pass but then a great connection to Skye Dawson, which drew, "That's it, Mike Kafka" from a coach.
* Glennon bounces a pass badly. Did he slip? Was it a throwaway? A bad route? Things Joe will never know.
* Lavonte David tips a McCown pass to Louis Murphy.
* Greg Schiano linebacker holdover Ka'Lial Glaud had a near interception with the second team defense and screams an obscenity allegedly not permitted on Lovie Smith practice fields. Jonathan Casillas followed that up soon after with the same word. Joe can tell it's getting late in practice.
* Bad snap by third-team center Josh Allen.
* Your first team offensive line from left to right during late 11-on-11 work: Anthony Collins, Patrick Omameh, Evan Dietrich-Smith, Oneil Cousins, Demar Dotson. … (No, Joe didn't head for the nearest liquor store to calm his nerves. It's only May.)
* Chris Owusu shows excellent hands on a catch from McCown. Lots of first-team work today for Owusu.
* Last off the practice field? Mark Barron. He was putting in so much extra work that reporters were told it would be a long time before he would be available.