Sure Things For The Bucs' Draft: Nos. 4 & 5
May 5th, 2014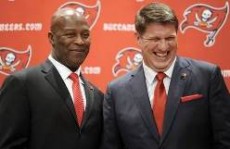 Joe won't offer up a full mock draft, but Joe will tell you what to bank on from Tampa Bay when the draft bell finally rings Thursday:
Here are Nos. 4 & 5 on the list. Come back later for the top-3.
No. 4: A speedy "slot" receiver will be drafted
Translation: The Bucs don't have one, and everything known about Jeff Tedford's approach says the Bucs need one and will desire one. Even if the apparent Jeff Demps obsession at One Buc Palace continues, Demps won't line up inside.
No. 5: Special teams help is on the way
Translation: Joe's looked up and down the roster, and there's definitely a need. Key special teamers from last season were lost, guys like Erik Lorig, Brian Leonard, Dekoda Watson and others, and Joe's not seeing where all those holes have been filled. The old regime would tell you wide receiver Russell Shepard often was their best special teams player, and there's no guarantee he'll be on this year's roster.